Published by Labyrinth Press, Oslo in 2006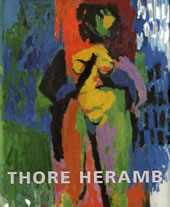 The first book on the painter Thore Heramb, considered Norway's greatest colourist.
As a young man arriving in Paris, Thore Heramb's dilemma was how to reconcile the intricate, spatially-fragmented constructions of the Cubists led by Picasso, with the Fauves' delicious preoccupation with pure colour used arbitrarily for emotional and decorative effect. Taught by two of Matisse's pupils, the question of balance between form and colour has driven the fascinating evolution of Heramb's art over seven decades. The book is published to mark Thore Heramb's 90th birthday.